Dear Friend in Christ,
A 6.4-magnitude earthquake shook Puerto Rico at 4:24 a.m. on Tuesday, Jan. 7. The southwest part of the island received the worst part. Immediately after the seism, the whole island was without electricity.
At least one person died, as walls collapsed around the area, and many others were injured. The majority of island residents are without power.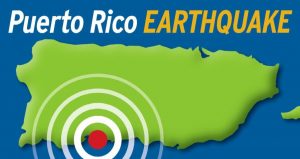 American Baptist Home Mission Societies (ABHMS) is mobilizing volunteers and securing donations to help Puerto Rico's residents, who are still recovering from Hurricane Maria. Fifteen thousand dollars in One Great Hour of Sharing funds have been released, but additional help is needed.
"That morning, I was at home just with my daughters because my husband was in the northern area of the island," says Hilda G. Acosta, pastor of Primera Iglesia Bautista de Playa Ponce. "When we felt the earthquake, we barely had time to leave the house to be safe. We have lost our home, but we know that God is our abode."
With your donation of only $25, ABHMS can provide needed food, shelter and supplies, while helping to rebuild devastated neighborhoods in Puerto Rico.
As you make plans for the new year, please consider blessing the people of Puerto Rico with a gift to help them overcome this recent disaster. Rest assured that 100% of your gift goes directly to our brothers and sisters in Puerto Rico.
Donations can be made online, via your church or check payable to American Baptist Home Mission Societies and mailed to the attention of Leda Carter at ABHMS, 1075 First Ave., King of Prussia, PA 19406. If paying by check, write "OGHS-Puerto Rico" in the memo line.
Please give today! Please give generously! Bring hope to a people who have felt abandoned and forgotten for far too long.
With hope,
Dr. Jeffrey Haggray
Executive Director
American Baptist Home Mission Societies