One of the most meaningful elements of belonging to a faith community is the chance to share in one another's stories and lives.
FBC McMinnville is finding new ways to foster this sharing and the connections it creates, including this: a Weekly Devotional with a reflection from a congregant.
May 6, 2020
In Connecticut, in the seventies, I often heard the phrase, "There is no gravity, the earth sucks." 

Those words pretty much described my outlook on life after college in 1975. God was far from my life. I'd never bought into the Hollywood Charlton-Heston-in-white-robes gig anyway. I believed in cold facts. Logic and reason were just fine, thank you.

In 1975, the Connecticut job market sucked too, especially for a depressed 23-year-old with a disability. The only job offer I had was dispatching cruisers for the City of Willimantic police department for $2.10 an hour. 

It was a rush telling the cops where to go. I had the ultimate multitasking job and I loved it all. I made many close friends and felt privileged to be included in the police fraternity that few civilians ever experience.

After my shift ended, I often hung out in the police station to unwind. One night, two officers brought a huge, drunken man in from a bar fight. I watched as he thrashed and fought with my two cop friends all the way through the squad room. But after they had wrestled the man into a cell, one of the officers kept on hitting him. I was horrified. The only violence I'd ever seen was on TV. I went home and drank a few beers to get to sleep.

The following day, I had to give a statement to the Lieutenant describing what I'd seen. I hated ratting on my friends, but I didn't want to lose my job.

After his release, the big man lodged a police brutality complaint and the two accused officers were fired. They in turn, filed grievances with their union. The City of Willimantic contested everything. I wound up in a room with a bunch of lawyers at the Connecticut Department of Labor waiting for hours to be called to testify against my friends.

All but a few of the officers now shunned me. I went to work each day heartbroken and consumed with guilt. My old pal depression found me again, and in October of '77, I quit the job.

On the last night of June, '78, I'd just come home after a night of partying with friends. I wobbled into my apartment and headed straight to my bedroom without turning on the lights. I was halfway there when I heard a knock on my door. I turned back and peeked around the corner, suspicious of my late-night visitor. One of the men I'd testified against a year earlier was standing outside, wearing a lightweight jacket. I'd heard he was no longer a cop, and I still felt heavy guilt for ratting on him. I invited him in, thinking he'd come to give me a chance to apologize, to explain why I told the truth at the hearings.

"Can we talk?" he said.

"Yeah, sure." I backed up to a chair at my kitchen table and was about to sit.

"Not here," he said. He pulled a gun from under his jacket and pointed it at my chest.

My heartbeat exploded under my ribs. We moved into the adjoining living room and sat.

"Why'd you do it?" he said. "Give me a reason why I shouldn't kill you right now."

I was terrified, speechless. I knew in an instant he thought I'd lied to the Labor Board. He believed the lies and ugly rumors about me that had circulated throughout the police department during that time, but I didn't dare contradict him.

When I didn't answer, he smashed his pistol against my forehead, opening a huge gash.That's the last memory I have of that night.

Fourteen hours later, two friends from my college days found me lying on my living room floor. They called the ambulance and police. At the local ER, the docs stabilized my vitals and transferred me to Hartford Hospital, 30 miles away.

After a week of drifting in and out of consciousness, I learned what had happened to me. My assailant had slashed my neck eight times. I had a four-inch hole in the top of my head and the entire right side of my body was paralyzed. A neurosurgeon had removed the skull fragments pressing on my brain that had caused the paralysis. Regaining movement, and the use of my right arm was iffy. Sadly, I also learned the fate of the man who beat me. After his arrest, while walking to the courthouse for arraignment, he grabbed the escorting officer's revolver, shot him, then turned the gun on himself. The wounded officer survived with only minor injuries. My assailant died at the scene.

There is much, much more to this story – enough for a gripping Scorcese movie, but in the months afterward, I wondered: how had I survived that terrible trouble? Twenty blows to my head with a hammer… with a stylish plastic patch to cover the hole. One of the slashes on my neck stopped an eighth of an inch from my windpipe. I should have cashed in my chips that summer night, but after a ton of hard work, I mostly recovered. My uber-logical brain churned and burned for hours, weeks and months, rationalizing every angle. My survival defied anything that made sense. As irrational and illogical as it sounded to my 25-year-old mind, there was only one answer. Something powerful and mystical was at work that night, and in the months that followed.

I still don't buy the Charlton-Heston-in-white-robes thing. My image of a higher power is more benevolent, like George Burns in the "Oh, God" films.

Too many people have said the words I needed to hear at just the right time, to be coincidental. They are emissaries from God. My wise friend Walt called these occurrences, "Godincidents." I believe they are. That terrible trouble began a spiritual awakening I would never have dreamed of 42 years ago. 

So here I am in this wonderful town and this incredible church, happily growing my spiritual awareness. Oh, and I'm pretty sure gravity has been restored to the planet. The earth doesn't suck. But then again, it never really did.
After 50 years on the East Coast, Dave King moved to McMinnville. He recently retired from a career as a vocational counselor. He enjoys the fellowship of FBC and has been a member for over 15 years. He fills his time with writing, singing, and camping with his fur-kid, Sam.
April 29, 2020
I'm a great self-starter and a terrible closer. This has always translated in the
garden to heady springs where I plant rows upon rows of vegetables, rejoice with
glee at the first emergence of green, water emphatically for a few weeks, and then
forget it even exists at all until it's a big tangled mess of vines and half-rotten
tomatoes. The shame is real. Every year I tell myself I will do better, be better, care
more, pay more attention. I imagine a situation where plants thrive under my care, and it sounds like science fiction.

This year, I am housebound with my whole family. I have made a practice of turning my whackamole, fix-it-and-forget-it style into what someone might call a watchful
gaze. I sneak out to check on my plants. I have planted an entire bed of weird edible greens and have seen their small changes every day. Tiny starburst clumps of
miner's lettuce. Purslane's delicate unfolding. The quiet nobility of spinach.

I am in awe every day about how much meaning is being created as our world
becomes a museum of itself. But what does this time mean? That I finally "get"
gardening? To slow down, consider the lettuce? If I have seen anything, it is how
much of life thrives simply when placed under a watchful gaze. Our time calls on us
to see, to reflect, to return, to see again, and to do it over and over until we know
that we are love.

A couple days ago, it rained and all of my greens were standing at attention and I
could tell that they were happy. I spent the rest of the afternoon researching their
properties, what some might call a deep dive into the wisdom of plants. I am
getting to know them as I pull a leaf and chew it in the sun.

Emily Grosvenor Diesburg is a 10-year resident of McMinnville with her husband Adam Diesburg and sons Dashiell, 10 and Griffin, 7. She is a work-at-home writer and Editor of Oregon Home magazine and writes the Tiny Travels columns for Visit McMinnville. Emily got baptized at FBC last summer.
April 22, 2020
My Spirit Flower
Trillium are known as the 'early gifts' of spring. Walk slowly and look closely for
Earth's abundant treasures. Trillium remind me of things that come in threes… can
you add to the list? Happy Earth Day!

rain sun rainbow
circle square triangle
fork knife spoon
sand sea surf
right center left
high middle low
soil tree forest
red white blue
he she they
dirt plant garden
eye nose mouth
mind body spirit
wind rain hail
breakfast lunch dinner
father son holy-ghost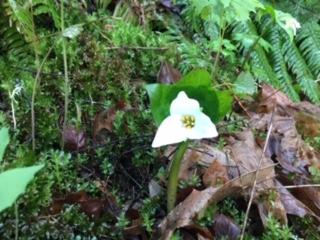 Susan Chambers left teaching Health Education and Disease Prevention at Linfield College over
10 years ago to become a full-time volunteer. At FBC she leads the Sew & So's Quilting Ministry,
belongs to Knitwits, and serves on the Missions and Membership Teams. Susan and her
husband Scott are avid travelers, especially enjoying the most remote and wild places on Earth
where they can bird-watch and identify flowers.
April 15, 2020
Recalculating Together in God's Love and Hope

We have all heard the message from our vehicle navigation instruments, indicating
an alternative route is prescribed. We now join with all humanity in "recalculating"
our lives, as our usual way forward has been blocked and the path ahead unclear.

Understanding and respecting the realities of science can be the starting point in
our personal, national, and worldwide recalculation strategies. All strategies have
embedded values. Our faith community affirms action-oriented values that can
both guide and sustain us not only in our personal lives, but also in the
recalculation we need to make regarding national public policies.

Doing justice, practicing kindness, and walking humbly are value actions
proclaimed by the Hebrew prophet Micah. The prophet Amos calls for justice to roll
down like waters, and righteousness like an ever-flowing stream. Matthew's Gospel
proclaims that God wants the hungry fed (food policy), the stranger clothed
(income disparities, homeless), the sick cared for (health policy), and the prisoner
released (criminal justice reform).

Jesus identified his task as proclaiming good news to the poor, release to the
captives, sight for the blind, liberation for the oppressed, and debts forgiven. Our
"faith village" affirms that by treating others the way we would like to be treated
and loving one another (and ourselves), God abides in us, reducing our fears and
strengthening our hope. Our scriptures affirm that "neither death, nor life, nor
angels, nor rulers, nor things to come, nor powers, nor height, nor depth, nor
anything else in all creation will be able to separate us from the love of God in
Christ Jesus our Lord."

Guided by the values of our faith, sustained by God's love, and encouraged by our
caring church community, we can recalculate ways to make our personal
relationships and public policies more caring and just.
Walt Parry, originally from Tennessee, is a graduate of Berea College, Kentucky, a liberal arts
college with a student work program rather than tuition. Walt's seminary work was at
Vanderbilt and American Baptist Seminary of the West, with an emphasis on church and
society. Having first met at Oregon Caves, Walt and LeeAnn married in 1965 and have lived in
California, Illinois, Pennsylvania, and New York. Their ethnically diverse family includes six
adult children and nine grandchildren. Walt and LeeAnn, who is a fourth generation
Oregonian, moved to Yamhill from Fresno, CA in late 2014. Both Walt and LeeAnn enjoy
photographing their visits throughout Oregon and Washington. Walt participates in Yamhill
County Democrat groups.
April 8, 2020
When I was in college in San Francisco, a friend invited me to attend the Church for
the Fellowship of All People. Dr. Howard Thurman started this Church. He was the
speaker that day and this statement was in the bulletin. I have kept it all these
years. It seems especially meaningful today when our "awareness" of each other
and the need for compassion struggles with our wanting to be protective of
ourselves.


God is at work enlarging the boundaries of my heart. God is making room in my heart
for compassion: the awareness that where my life begins is where your life begins: the
awareness that the sensitiveness to your needs cannot be separated from the
sensitiveness to my needs: the awareness that the joys of my heart are never mine
alone—nor are my sorrows. I struggle against the work of God in my heart: I want to be
let alone, I want my boundaries to remain fixed that I may be at rest. But even now, as I
turn to Him in the quietness, His work in me is
ever the same.

—Howard Thurman
Cherie Walker was born in Nebraska and has lived in Texas, Colorado, Utah, California, New
York, Illinois, and Minnesota. She and her husband, Charlie, have been in Oregon for 45 years. They joined FBC in 1975 but had a 22-year break when they moved to the coast after Charlie
retired from Linfield. Cherie has a BA from San Francisco State, an MA from Columbia
University, and worked as a District Director for the Girl Scouts until she was fortunate enough to be able to be a stay-at-home Mom with their two children.
April 1, 2020
For a time like this —
The people of the land were required to go to the polls,
each one to the assigned polling place.
There was disruption of lives by the populist and the government
So each one left their home to travel
sometimes great distances to be counted

During a time like this —
A baby was born to a young couple with only a stable
to stay because no rooms in the inn
Christ Child born to live amongst a people
in the turmoil of those times

For a time like this —
Today People were required to go to the polls
to be counted amidst turmoil
Do we bring the Christ of our faith to a people in conflict?
With a hope of a future with faith based
on a scripture written in times of turmoil

During a time like this —
We shelter in place to prevent the spread of the disease
that attacks our people
How do we bring the love of Christ in times like this?
Bring the Creative aspect of each of us to share the love
of Christ to the people of the land.

3-20-2020
Gail Lee is a Ph.D. in agronomy (dirt!), a retired professor, a mother of two, a grandmother of
six, and a poet whose collection "A Life Worth Living" contains reflections on despair, hope,
struggle, love, nature, beauty, and life in Christ. She lives at Hillside.
March 25, 2020
Rob Porter is the husband of Margy Porter and father of Katie, Jacob, and Rosie. He is an
amateur singer-songwriter inspired by his love of family, friends, and creation. FBC has been
his church home for almost 20 years.